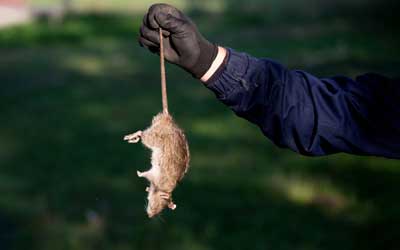 Everyone knows that rodents are gross, but did you know that they are dangerous as well? Mice and rats cause a lot of structural damage with their nesting habits, and have also been known to chew through wires.
The biggest danger of rodents, however, is the fact that they spread filth and are capable of transmitting harmful illnesses. With rats and mice common in Tennessee throughout the year, it's important to know just how harmful they could be.
Dangerous rat-borne diseases
Although it may be rare for people to get diseases from rodents, it is nonetheless a real threat—one you should never risk. If any of the below symptoms are suspected, it's crucial to seek medical attention from a professional. Some of the most serious diseases transmitted by rats and mice throughout history include:
Hantavirus

Hantavirus is a potentially life-threatening disease transmitted to humans by rodents, mainly the white-footed deer mouse.
Victims become infected through exposure or inhalation of infected rodent urine, droppings, or saliva.
Symptoms include headaches, dizziness, chills and abdominal problems.

Bubonic Plague

Also known as the "Black Death", the Plague is a highly contagious, dangerous disease that is notorious for killing one-third of the European population during the Middle Ages.
The Plague is spread by the bite of an infected rodent flea and can cause fever, headache, and painfully swollen lymph nodes.

Salmonellosis

Salmonellosis is a type of food poisoning spread by rodent feces, most often through the consumption of contaminated food.
Symptoms of salmonella include diarrhea, fever, and abdominal pain.

Rat-Bite Fever

Rat-bite fever (RBF) is a potentially fatal infectious disease spread by infected rodents or the consumption of food contaminated by rodents.
Symptoms usually occur 3–10 days after exposure to an infected source and include fever, vomiting, headaches, rash, and muscle pain.
Need a Pest Control Estimate?
We'll call you! Leave your information below.
How to get rid of mice and rats
Even if these diseases are rare, mice and rats are still dangerous. Their droppings spread bacteria and contaminate food, and they've even been linked to allergic reactions in people! If you are noticing the signs of rodents in your home, it's time to call the professionals at Johnson Pest Control. We can safely remove rats and mice from your property and keep them out for good!
Back to Rodent Exterminators – Rat & Mice Exterminators
Dangers of Rodents in Tennessee in Sevierville TN
Serving Sevier County and surrounding areas since 1984
Sevierville | Loudon | Knoxville | Jefferson City | Morristown
Newport | Maryville | Pigeon Forge | Gatlinburg