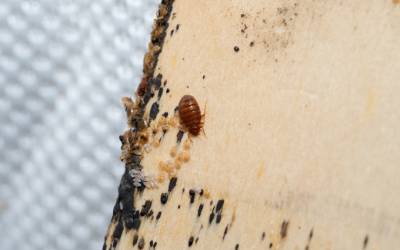 Bed bug bites are gross, they're itchy, they're bothersome. It's a generally unpleasant feeling. But what might be worse is the anxiety that pairs with the knowledge of an active bed bug infestation in your home. When you know that there's a chance you'll be bitten by bed bugs as you sleep, it's likely that you'll be tossing and turning for hours or getting a restless night of sleep.
So, how can we avoid this feeling? And do we really need to be so scared about bed bug bites?
Some Things to Know About Bed Bug Bites
If you're wondering whether you currently have bed bug bites or you just want to learn more about them, read on. We've laid out some important bed bug bite facts from our experts at Johnson Pest Control:
Bed bug bites look like small bumps or a rash. Their bites will often be laid out in zigzag patterns across skin that you leave exposed at night.
Bed bugs do not transmit diseases. During the feeding process, bed bugs inject an anticoagulant in order to enable them to draw more blood, but they do not pass on any diseases through their bites.
Bite symptoms imitate a rash. Bed bug bites will leave you with redness, itchiness, and possibly swelling at the source of the bites. In some cases, bed bug bites can cause allergic reactions. Hydrocortisone cream can be used as a treatment option.

What Are the Signs of Bed Bugs Inside?
Unfortunately, no matter how clean you keep your house, you are still at risk for bed bugs. Since they travel on used furniture, clothing, bags, and accessories, bringing anything into the house and back or introducing new items to your home can spur a bed bug infestation.
Because of this, it is important to be aware of the signs of a bed bug infestation so that you can deal with it before it gets out of hand. Here are some the signs of a bed bug infestation in your home:
Bites: People often find out about their bed bug problems by noticing bites on their skin. They will often be laid out in lines and look like a rash.
Excess material: You could possibly find bed bug excrement, tiny white eggshells, or reddish-brown smears along the places that bed bugs are inhabiting.
Active bed bugs: Bed bugs are very small, but they are visible to the naked eye. Look out for them around your mattress, furniture, and baseboards.
Don't jump to throw away all of your belongings when you discover a bed bug infestation. There are ways to get rid of bed bugs without tossing all of your things!
Bed Bug Treatments in Eastern TN
Bed bugs can be eliminated most effectively by prolonged exposure to high heat. If you're looking for a professional heat treatment in Eastern TN, talk to your local pest control company. Our bed bug experts at Johnson Pest Control can eliminate your infestation in only a day's work. For more information on our services or for a free quote, contact us today!
The Dirty Truth on Bed Bug Bites in Sevierville TN
Serving Sevier County and surrounding areas since 1984
Sevierville | Loudon | Knoxville | Jefferson City | Morristown
Newport | Maryville | Pigeon Forge | Gatlinburg